Amazon Product Review Software for FBA Sellers - Which Tool Is Best To Get Reviews
Getting more positive reviews is the key to success and a gold mine that every Amazon seller is looking for.
At AMZing Marketing Consultancy we have seen many products not getting a single sale when they just launched with NO reviews. Most Amazon buyers don't buy a product that has no reviews at all.
Over 80% of Amazon buyers read online reviews when they are shopping on Amazon. So getting positive reviews is critical for your Amazon business. 

What is the Best Way To Get More Reviews on Amazon

Having lots of positive reviews at Amazon is one of the most important factors to increase your sales. In fact, it should be put at your number 1 priority list.
Here is a big challenge: not may customers are willing to leave product review at Amazon.

At AMZing Marketing, we have observed that for every 100 sales, Amazon sellers potentially get two-three reviews – four, if they are lucky. As you see it's extremely difficult to get reviews and feedback for your Amazon business
Giving Coupon Code in Order Asking for Review Is Forbidden and Amazon Will Even Suspend Your Account 
Gone are the days that you can give away product at the cost to ask for reviews.
So what is the best way to get more reviews? Well, use a good email marketing software and write an awesome friedly email reminder to your customer  
You Must Follow Amazon Email Guidelines
It should be strictly compliant with Amazon's Terms and Conditions
The emails utilized by these Amazon review tools should not include any links to external websites, marketing messages/promotions, or incentives to leave reviews
What Email Feedback Software Feature Should Be Looking for
Should provide A/B testing feature to find out which templates work the best
Ideally, it should also provide negative feedback monitoring
With that in mind, we have compiled this list of the 5 best Amazon feedback software preferred by most Amazon Sellers. . Let's take a look:
Here the Top 5 Best and Cheapest Amazon Feedback Email Software
ZonMaster

Zonmaster email marketing is powerful and cost-effective way to send follow up reminders to your Amazon customers. Simply integrate this in your Amazon Seller Central and it will be connected




Click Here Get this Special Offer from ZonMaster




2. AMZFinder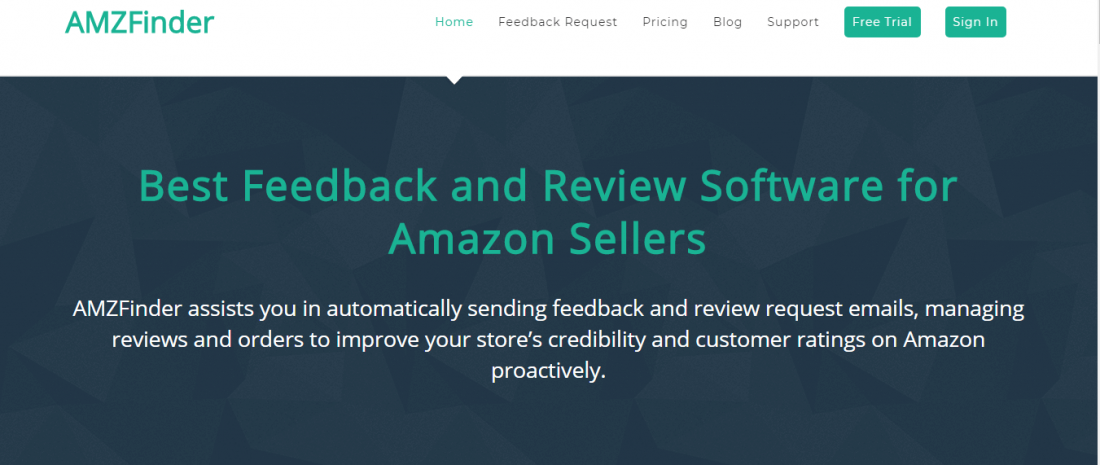 AMZFinder is another powerful Amazon review management tool that comes with a host of features. Available in 8 Amazon marketplaces without any additional costs, AMZFinder allows sellers to efficiently connect with their customers and ask them to share their shopping experience. To make things convenient, AMZFinder has split its services into two halves: Feedback Request and Review Management.
Features Offered
In addition to providing Amazon sellers with the option to craft customized email templates for product review requests, AMZFinder also allows them to send these messages in multiple languages at a particular time or through a particular channel. This customization for relevance is also supported an automated invoice generator, that will send invoices to the customers as per the rules of different marketplaces. Lastly, you can also track multiple ASINs and manage the reviews on them to improve the reputation of your Amazon store.
Pricing
The review management plan starts at $29.99 a month wherein, you can track up to 50 ASINs. From there on, you can proceed up to observe the reviews on 2,000 ASINs and more at upwards of $169.99 a month. Coming to the feedback request plans, you can send 500 emails every month for free. For more than that, you may need to switch to the Basic plan or above, starting at $19 a month.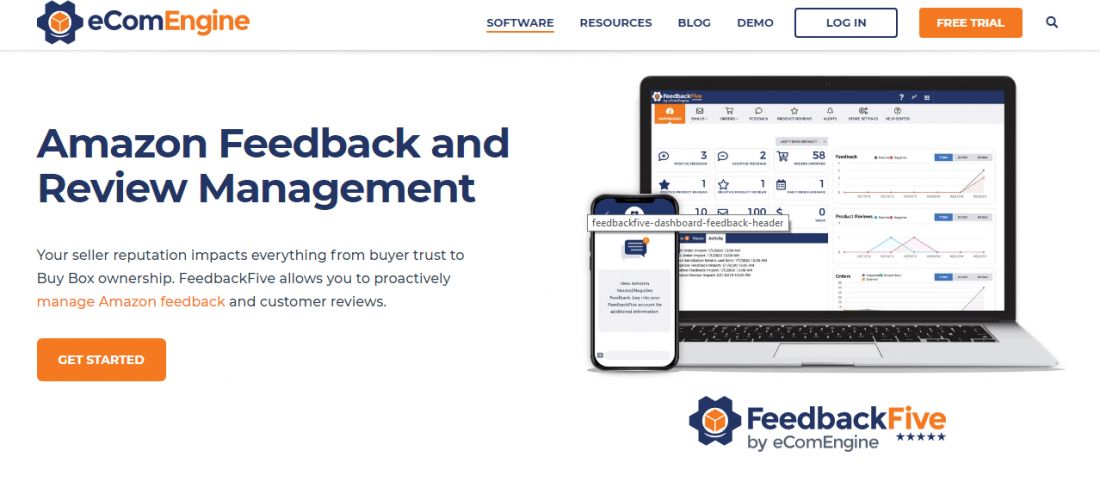 FeedbackFive is quite similar to AMZFinder, except this Amazon review tool has been around for roughly a decade now. Amazon merchants can make use of FeedbackFive to send customized messages to their buyers at a time of their choosing. These messages can also include images and emojis to improve the odds of getting the much-needed seller feedback and product reviews.
Features Offered
Increase engagement with your customers with the help of existing templates or design your own template to add a more personalized touch. You can also add specific information in the email to make it more relevant for your buyers. Thanks to these automated emails, you will not spend a lot of time requesting feedback. With that, you will also get actionable inputs into the performance of your email campaigns along with the ability to monitor negative feedback on multiple ASINs in different marketplaces.
Pricing
In the Lite plan, you can send up to 50 emails every month. For more, you will have to switch to the Basic plan or above, starting at $9.99 a month. You will pay more depending on how many emails you need to send every month – again, this depends on the scale of your Amazon business. As for the review management tool at FeedbackFive, the prices start at $9.99 for 50 ASINs.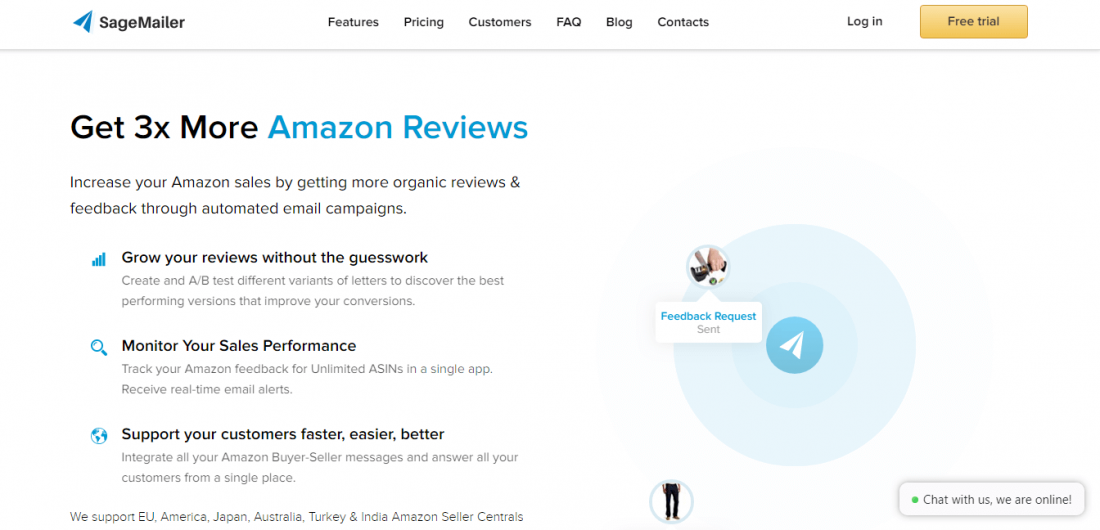 SageMailer has done a fantastic job when it comes to creating a powerful review tool preferred by Amazon sellers. Thanks to its incredible suite of features, it is one of the best Amazon feedback request software in the market and is right there on the top with the other players. SageMailer also supports VAT invoicing on the EU Amazon marketplaces and allows users to monitor the reviews their product ASINs, all in the same plan!
Features Offered
Right off the bat, you can personalize your product review and seller feedback emails with existing templates or by using your creativity. You can make use of images, company logo, and other details with the help of dynamic tags in your emails. Moreover, you can perform A/B testing here with up to 9 variations to see which ones work best for you. To make things more convenient for you, you can manage your Amazon buyer-seller messages on the same platform, thanks to seamless integration. You can even respond to queries with customized templates.
Pricing
While there is a free plan at SageMailer, you will get all the features in the Pro Plan, starting at $25 for up to 2,000 emails a month. VAT invoicing, review monitoring, and A/B testing will be a part of this plan. As you scale up, switch to a higher plan to ensure that you reach out to all of your customers.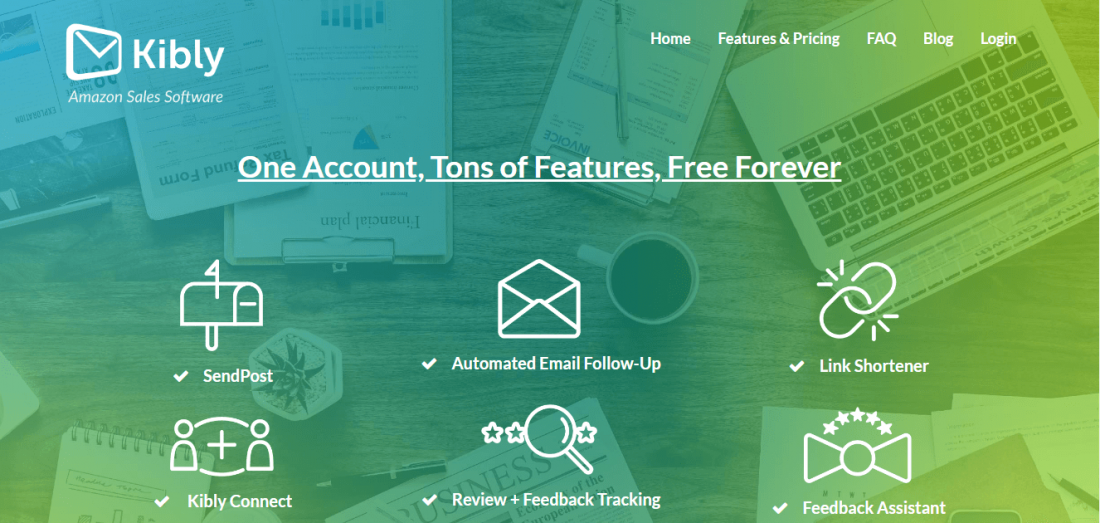 With its powerful, dedicated suite of features, Kibly is changing the way we gather Amazon reviews for our businesses in a big, big way. It is known for its impeccable personalized templates with conversion rates in line with those available with other review tools. Of course, Kibly is also quite reputed and trusted among Amazon sellers and it is for this reason that it makes the list of our top Amazon review software tools.
Features Offered
With Kibly, you can send automated, customized follow-up emails to your customers, requesting them to leave you feedback and product reviews. You also get the option of sending a postcard directly to your clients – that's right, we are talking about a real letter here. Needless to mention, Kibly will do this task for you, along with empowering you to monitor the feedback and reviews on your products. You will get alerts in real time so that you can act on it immediately. The rest of the features are pretty similar to the ones available in other Amazon review software.
Pricing
The pricing plans at Kibly depend on how many emails you send every month. As for the rest of the automated features, they are pretty much free. You can visit their pricing page for more information.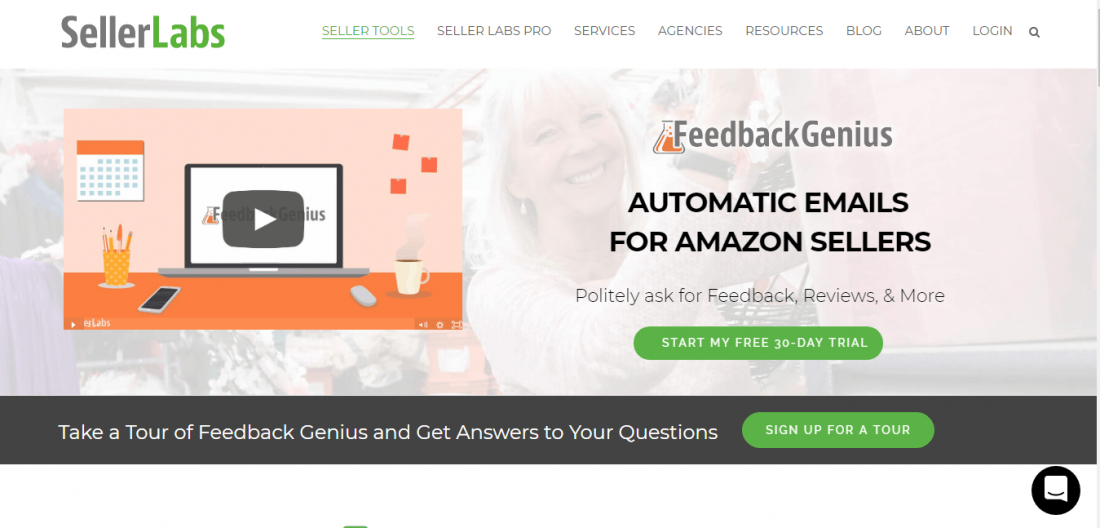 Powered by SellerLabs, Feedback Genius is a critical part of their features which specifically focuses on, as you may have guessed it, automatic emails for Amazon sellers. There is a lot that you can do with the help of Feedback Genius, starting with automating buyer-seller messages on Amazon, to contacting the buyers with requests for seller feedback and product reviews. You can also set up notifications when you get a review or feedback, avoiding you the trouble of checking it all on Amazon manually.


https://www.feedbackwhiz.com/pricing
October 24, 2020 - Reading time: 19 minutes